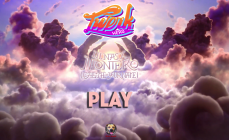 If you're wondering if you read that correct, you did!
Lil Nas X just released a free browser game where you can make him twerk and you gain points by knocking out these torpedo-looking objects. The game is fittingly called 'Twerk Hero' and its inspired by his latest song 'Montero' which has sparked A LOT of controversy.
If you want to give this game a go (c'mon you know you want to) click the pic above or on the tweets below! We guarantee you'll be entertained for AT LEAST 5 minutes.
PLAY HERE: https://t.co/pUlUJYhY3O pic.twitter.com/I660hJr9du

— nope ? (@LilNasX) April 7, 2021